Philippine Town Cultural Center(PTCC) is located in Los Angeles. It is known as its town blankets.
Concept: one long ramp(maximize opportunities of conversations and communications) that connects two different but identical masses(that represents asian Philippine identity and westernized culture identity). Two identical masses are covered by two blankets from previous woven modules. 
Maya exterior fly through animation with Camera "Davvi". 
Maya interior fly through animation with Camera "Dabby". 
Model top view of model of PTCC Blankets. 
Continuing pursuing previous "woven module" interest in looking at how a volume and a surface can be joined by multiple woven modules through one construction method in this project. 
The woven modules which are flexible, versatile, when flew along surfaces or geometries, materiality were challenged, thus bent into different shape and forms. This quality allows them to perform in two different ways: 1 stretched into protection(tucked in of stairs and ramps, as disguis also as way finding) or provide soft supports(drapped to floor from top facade).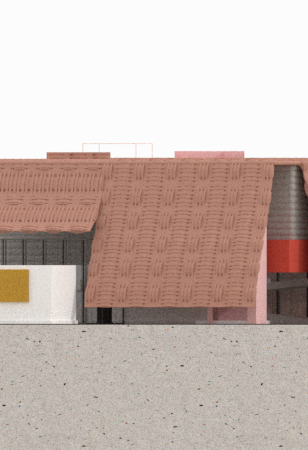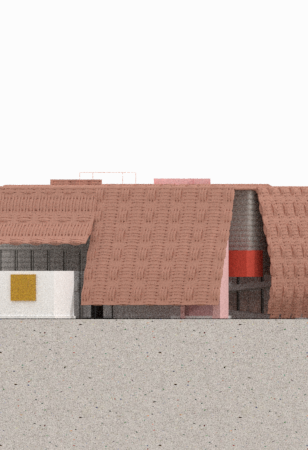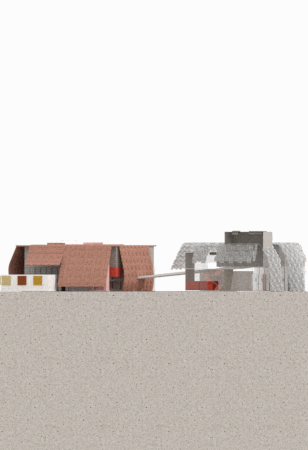 Front elevations of PTCC Blankets facades details. 
Top and elevation of PTCC Blankets. 
Facade of PTCC Blankets- day and night scenes. 
Woven module materials axon, vs. worm eye full site axon. 1/32 scaled.
First floor plan 1/16 scaled.
Second floor plan 1/16 scaled.
Section of full site 1/16 scaled.
Stacking of simple representational boxes:
Textured and contoured to represent different functions: 
Transparent contoured boxes are exhibitions and info centers(informational; serving outside culture group ppl); Opened boxes are classrooms(educational; serving culture group ppl); Closed boxes are facilities and community office workers(functional; serving ppl).
Clipping plane transition from top floor to bottom floor revealing textures and materials as well as functions. Colors in this diagram represents different functions and corresponding user groups. Two main masses groups are being simplified and clarified. 
Ideas of how "blankets" get married on top of two main massing groups. 
Perspectives from different angles to help better understand, organize and refine final design.
1.idea of super scaled furniture. 
2.urbanistic, late modern, Paul Rudurf 
3.opportunity for symmetry? more sharp?